SIMPLIFYING SELLING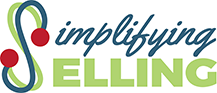 Available in both virtual or in-person session.
This Sales programme – SIMPLIFYING SELLING – has only one objective in mind: To empower Sales Professionals to sell more and hence increasing the bottomline of your company.
We know – Every sales professional is only as good as the sales he or she generates … and school is never out for the professional salesperson.
The Simplifying Selling Sales Training programme has a proven track record of helping sales professionals generate more referrals, close more sales and retain more valuable clients.
Do you, as the business leader, believe that:
Your sales team has the potential to do more?
Your company can grab a bigger slice of the market pie?
Selling is a learnt behaviour that every salesperson can improve?
Yes? This is for you.
We have clearly defined processes to identify your team's specific challenges and help drive results. At Performance, we bring global best practices to your business and empower your sales team with the critical selling competencies needed to succeed:
Simplifying Framework for Selling
Simplifying Goal Setting
Simplifying Prospecting and Qualifying
Simplifying Cold Calling
Simplifying Writing Direct Mail
Simplifying Sales Presentation
Simplifying Objections Handling
Simplifying Closing
Simplifying Questioning Techniques
The durations of these bite-size programmes are all 1 hour but can be expanded into a 2-hour or 3-hour program to include practice & drills to deepen the learnings.
Whether it is a compact 1-hour or an in-depth 3-hour, our methodologies are always engaging with interactive discussions, learning activities and case studies.
Every title is a stand-alone module. There is no prerequisite or sequence to attending the modules, although each one cover a different stage of the sales process.
Lastly, these modules are stackable into a 2-day program. The idea of breaking it down for you and your team to learn fast, learn it today, use it tomorrow!
Our guidance does not end once the programme is over. At Performance, we provide follow-up coaching to ensure your new knowledge is being applied in real-world situations. We also offer personalised attention with email and phone support, lifetime alumni membership and community support to maximise the value you get from our programme.
ENQUIRE NOW
Participant Reviews
Attitude and attentiveness of the trainer
Rule 45; It will help me to determine our sales target
Closed ended to open ended with bridging statements. Also, the closing techniques are refreshing and interesting
It's an open discussion between the group, and identify the basic but effective one
Goal setting.
The video on Dumb/Smart goal is very good